From visual design to usability, human interface experts know the success of every new product depends on the user experience. Capture and share every moment, every action and every facial expression for each of your usability testing, UX lab or consumer research sessions to learn how consumers interact with your product, service or application.
Portable UX labs
As the world becomes more mobile, UX research is also on the move – any room from a classroom to a hotel meeting room could be your next UX lab or usability testing location. First-time product usage and user interactions cannot be re-created, so high resolution screen capture and video footage synchronized from multiple video cameras are required to capture these experiences. While this may seem like a tall order for something you can setup and tear down daily, with Pearl this is possible.
Epiphan's all-in-one live video recorder, Pearl, is a great portable solution for multi-source capture. It captures audio & video from video cameras, GoPro cameras or any other HDMI or SDI cameras, as well as captures your user PC or smartphone, output from soundboards and more. It's easy to setup and you can create multiple configurations in advance and load the one you need for today's sessions.
With nearly silent operation, simple single-touch start/stop, local recording and the added benefit of streaming live video from the field to the UX research team back at the home office, Pearl is the ideal solution for a mobile UX lab. Choose from the very compact portable Pearl model (which even comes with a durable hard-shell carrying case), or either of the two rackmount models that offer convenience when shipping full racks of equipment.
Permanent UX labs
Permanent or stationary UX labs are fixed usability testing installations that let the UX team record and observe participants in known settings. Capturing and viewing footage from multiple video cameras placed throughout the UX lab is critically important for the UX designers organizing the testing sessions. For software projects, it's equally important to see what's happening with the application via capture of the device or computer screen.
Epiphan solutions provide the capability to capture, record and review all the cameras and input sources (regardless of OS) from your usability testing sessions. And they let you stream your footage live to multiple locations for a truly integrated and effective UX design process.
Depending on the number of HD inputs you need to capture, choose from Pearl, Pearl Rackmount Twin or VGA Grid. Or for large-scale applications, we recommend VGA Grid, a similar solution with even more power. VGA Grid can synchronize, record and stream up to 64 audio and video sources. Use its distributed model to create a single control room for capturing and recording multiple UX labs.
Consumer research
To help understand customer motivation, buying behavior and preferences, companies engage in consumer research for new and test products. Sometimes the research is purely interview-style opinion gathering, but when it involves focus groups or observing consumer behavior, recording and synchronizing multiple video cameras angles helps researchers get addition perspective into the consumer's actions and feedback. Pearl coordinates this by capturing input from up to 4 HD video cameras simultaneously and providing the ability to record and stream the results. This portable unit has a hard shell carrying case and is easy to bring along to research centers and focus groups regardless of location.
To maximize the value of your consumer research time, set up multiple cameras to view both what the participants are seeing and their facials expressions and body language at the same time. Configure Pearl to synchronize your cameras into a single feed that can be viewed either locally on a monitor or streamed to offsite stakeholders. With live video streaming, even off-site team members can observe the participants and immediately request the interviewer or moderator dig for more insight when a specific behavior is observed.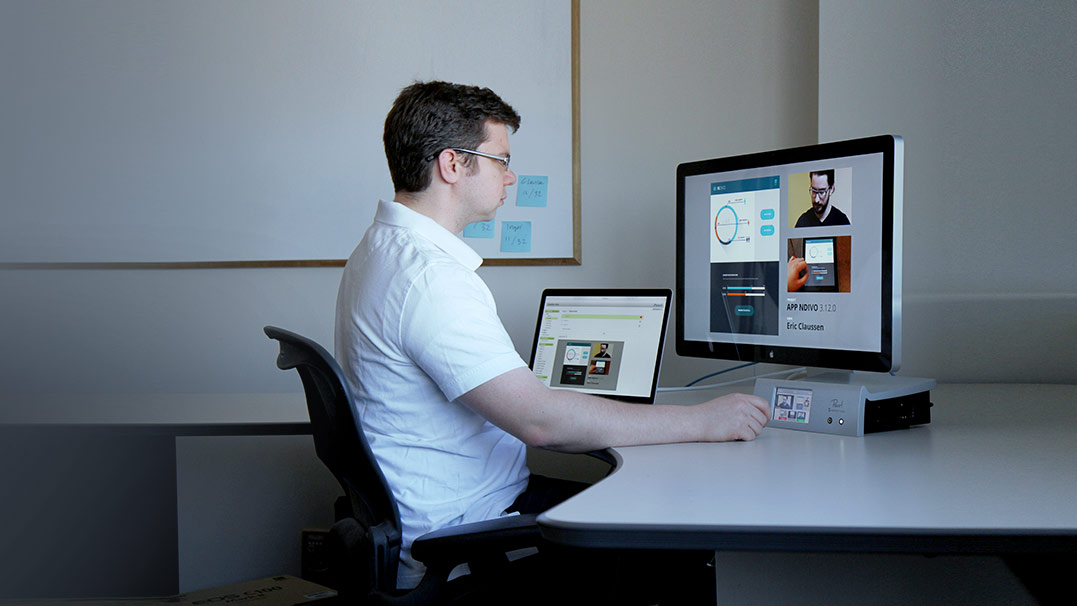 All-in-one video recording and streaming
A solution like Pearl-2 or Pearl lets you simultaneously record and synchronize all the different types of inputs – from video cameras and mics to document cameras and device screens. These easy to use systems give you the ability to combine your video and audio inputs into a single multi-camera presentation and stream it to remote team members or discreetly watch from another room. As a result, your whole team (local and remote), gets a true sense of the user's actions, reactions and resulting application behavior. And as a team, you can watch, review and even guide sessions remotely or from your UX lab observation room. It's the ultimate creativity and control for user experience design and testing.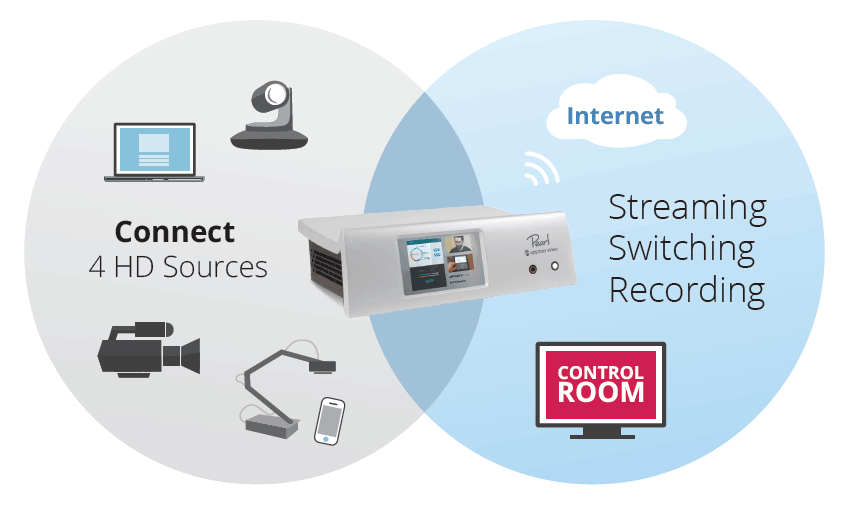 Get your entire UX lab up in running in minutes
Pearl is simple to configure and even simpler to use, with no training required.
Connect up to 4 HD cameras or devices
Capture video and audio from any camera, phone, tablet or display.
Synchronized recording
Record all your original inputs and picture in picture layouts simultaneously and in sync for easy playback from multiple angles.
Completely custom layouts
Use picture in picture, custom backgrounds and timestamping to provide different design teams with exactly the information they need.
Observe participants locally
Use Pearl's low latency video output ports to watch user interaction discreetly from monitors in your lab's observation room.
Include offsite team members
With the touch of a finger, stream to network media players, YouTube or any CDN.
Recordings that are backed up
Transfer recordings automatically to your server and keep a local backup copy on the 1TB hard drive to make sure the recordings are never lost.
"My clients absolutely love Pearl. When it comes to user testing, Pearl is a game-changer."
Why is streaming so important UX design and usability testing?
Our clients say that Pearl's streaming capability speeds up their user experience design process and allows team members all over the globe instant access to the insights gathered in the UX research process. Pearl also allows viewers to switch between 4 different streams with different camera angles or picture in picture layouts, giving them the feeling that they are in the room with the participant.