Webcaster X1 for Facebook Live
user guide
Set stream targeting
Before streaming to a Facebook Page with Webcaster X1, you can choose to set audience targeting criteria for your post. It's easy!
What is targeting?
When you broadcast to Facebook Live, Facebook helps you generate an audience. When your publish destination is a Facebook Page, you can target specific kinds of viewers.
For example, you can target the gender or age of viewers who will be most interested in your live stream.

Webcaster X1

lets you configure targeting for your broadcast and sends this targeting request to Facebook.

Note:

Targeting is only supported for Pages.
To configure targeting for your live stream you need:
Your

Webcaster X1 for Facebook Live

An HDMI display (that supports 1080p video) connected to your

Webcaster X1

A USB mouse connected to your

Webcaster X1

(must be connected before boot-up)
Show me!
If not already on the Preferences page, click the

Preferences

icon at the lower right corner of the screen; the preferences screen opens.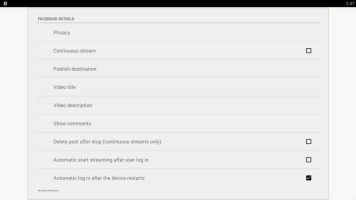 Scroll to the bottom of the settings page to the

Targeting

section.
Click

Gender

to select a target gender.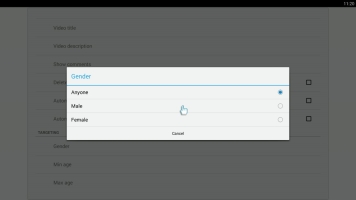 Click

Min age

and/or

Max age

to configure a targeted age range for your live broadcast.
If you are done with Facebook settings for your broadcast, right click to exit the Preferences menu.
Your USB mouse or keyboard must be connected to
Webcaster X1 for Facebook Live
before boot-up.