Webcaster X1 for Facebook Live
user guide
Set stream resolution
By default, Webcaster X1 for Facebook Live sends your stream to Facebook with the screen resolution 1280×720 (720p). If needed, you can adjust this value before your start your broadcast.
What is stream resolution?
The resolution is the size of each frame and is sometimes called frame size.
Usually these values are expressed as a pair of values such as 1280×720. The first value describes how wide your picture is (in pixels) and the second how tall it is.
Some resolutions also have short forms. For instance 720p or HD means 1280×720.
The higher (larger) the resolution, the more data needed to accurately describe everything in your video.
If you have limited uplink bandwidth, you need to find a balance between frame size and frame rate that makes your video look as good as possible at your current bit rate.
Facebook has specifications for the maximum resolution they accept. Currently this value is 1280×720 (720p).
You can configure the resolution that

Webcaster X1

sends to Facebook.
To set the resolution your live stream you need:
Your

Webcaster X1 for Facebook Live

An HDMI display (that supports 1080p video) connected to your

Webcaster X1

A USB mouse connected to your

Webcaster X1

(must be connected before boot-up)
Show me!
Note:

You cannot change the resolution during your live broadcast. If you change it while streaming, the change only takes effect when you stop the current stream and start another.
If not already on the Preferences page, click the

Preferences

icon at the lower right corner of the screen; the preferences screen opens.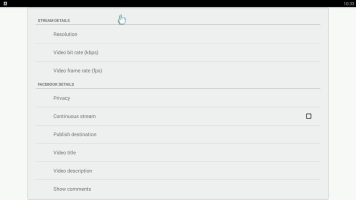 Click

Resolution

in the

Stream Details

section.
Use your connected USB mouse to select the bit rate for your live stream.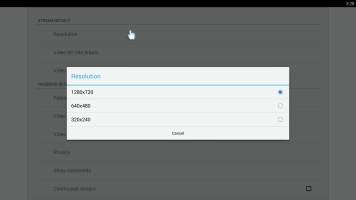 Note:

When you first get your

Webcaster X1 for Facebook Live

, the default resolution is

1280×720

. On all subsequent uses after your first use, the default frame size is whatever you set last time.
If you are done with settings for your live stream, right click to exit the Preferences menu.
Your USB mouse or keyboard must be connected to
Webcaster X1
before boot-up.