Configure automatic streaming
Webcaster X2 can be set up to automatically broadcast to your Facebook Timeline or any Facebook Page, Event or Group for which you have posting permissions. By automatically, we mean as soon as you turn on your Webcaster X2 and it connects to the Internet, it reaches out automatically to your Facebook account and starts streaming with your pre-configured settings.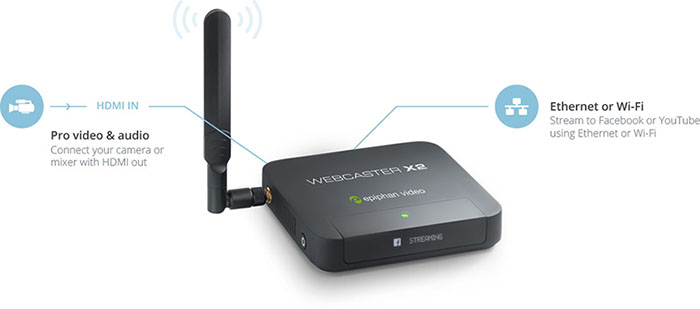 These instructions walk you through configuring your system for automatic streaming. Once configured, it will automatically broadcast the next time you use it (and any subsequent times until you change the settings or unpair Webcaster X2 from Facebook).

What do I need?
To pre-configure streaming you need:
A Facebook account
Your HDMI camera to stream
A

Webcaster X2

paired to your Facebook account, see Pair and unpair Facebook.
An HDMI display (that supports 1080p video)
A USB mouse
Optionally, a USB keyboard

An Internet connection with a minimum of 6 Mb/s uplink for 1080p, or 3 Mb/s for 720p . Each Webcaster X2 you connect to your network needs a constant uplink bandwidth of 3 Mb/s to 6 Mb/s by default. Any popular internet speed test can help you determine the peak bandwidth you have available. We recommend allowing for at least 1.5 times the amount of bandwidth you expect to need for your live stream because other devices, including personal computers and voice over IP phone systems, can use a significant portion of your available uplink.
This example shows you how to stream an HDMI camera, but you can use any other HDMI source you like (camera, computer, video mixer, etc.), as long as your source (or media) sends video at 720p or 1080p and does not have High-bandwidth Digital Content Protection (HDCP), and sends audio at 44.1 kHz or 48 kHz.
 Connect everything and turn on

Webcaster X2

.

Connect your HDMI camera to the

HDMI IN

port.
Connect your display to the

HDMI OUT

port.
Connect your Ethernet cable to the Ethernet port. (Or configure Wi-Fi after boot up.)
Connect your mouse to one of the USB ports.
(Optional) Connect your keyboard to another USB port.
Turn on

Webcaster X2

by plugging in the power cord;

Webcaster X2

executes its boot-up sequence.

Webcaster X2

supports HDMI input signals of 720p (1280×720) and 1080p (1920×1080), progressive signals only. Interlaced signals (e.g. 720i and 1080i) are

not

supported. If your camera isn't supported (or is experiencing another signal issue), the front screen and attached display show a message that says

HDMI IN No Signal

. Audio is supported over HDMI at 44.1 kHz and 48 kHz. Or using the (beta) USB camera feature, you can use the audio from a connected USB webcam or a plug-and-play USB microphone that is a UAC device.

Choose streaming to Facebook.

If the Facebook logo doesn't appear on

Webcaster X2

's front display, double-press the

multi-function power

button. See Choose the platform app you want.

If your

Webcaster X2

is already paired with your Facebook account from a previous session, your account name displays instead of a new pairing code. If no code appears, check that you still have an Internet connection or whether you are still logged in to a captive Wi-Fi network, see

Use a captive WiFi network that's password protected

.

If your

Webcaster X2

is not already paired with your Facebook account, you can do that now. See Pair and unpair Facebook
Configure your live stream settings in the Preferences.

Click the

Preferences

icon at the lower right corner of the screen. The Preferences screen opens.
Click

Publishing destination

in the

Facebook details

section;

Webcaster X2

asks Facebook for a list of places to which you can publish and displays these in the Publishing destinations settings box.

Select your Timeline or the Page, Group or Event you want to stream to. (You can easily confirm your selection after you exit the configuration menu by checking the

Destination

listed at the top of the display.)
(Optional) Configure aspects of your Facebook post.
(Optional) Configure your stream settings.
If not checked, check the checkbox for

Pair automatically after reboot

. This keeps your account paired even when

Webcaster X2

reboots.
Scroll to the bottom of the list and check the checkbox for

Start stream automatically after pairing

. This starts your stream automatically after it pairs with Facebook - or in this case, because automatic pairing is enabled, streaming starts right after reboot.
Click the

Right mouse button

to exit the Preferences and return to the main screen.

Turn off

Webcaster X2

and move

Webcaster X2

to your final broadcast location. You can either press and hold the multi-function power button for four seconds to power off or disconnect the power cable.
When you are ready, begin your broadcast!

(Optional) Connect an HDMI display and USB mouse to

Webcaster X2

.
When you are ready to start streaming, turn on

Webcaster X2

using the

multi-function power

button, or by connecting the power cable;

Webcaster X2

executes its boot-up sequence.
After boot-up,

Webcaster X2

automatically starts streaming with your saved settings and the front display shows the elapsed streaming time.
If an HDMI display is attached, it updates to let you know how long you have been streaming.

During your broadcast, click the

left mouse button

to show and hide the

Webcaster X2

overlay (including comments, if you have your device

configured to show them

).

When your live broadcast is complete, doing one of the following to stop streaming:

Click the

Stop

icon , then confirm that you wish to stop streaming.
Press the

multi-function power

button once.
Press

Space

on a connected keyboard.
Click

Unpair

to log out of your Facebook account (you will need to re-pair before using

Webcaster X2

again.)
Click the

Webcaster X2

Exit

icon to leave the Facebook streaming application.
Turn off

Webcaster X2

by pressing and holding the

multi-function power

button for 7 seconds.

By default, if you turn off the device without unpairing, your

Webcaster X2

is still paired with your Facebook account next time you turn it on. You can change this behavior by following the steps here:

Stay paired with Facebook

.