User Guide
Setting and applying presets
Your remote control lets you save commonly used setting configurations to specific presets that can be applied using the number keys.
To set a preset (to number key "1", for example):
Ensure that your

LUMiO 12x

is powered on (the front indicator light should be solid blue – see Front, back and bottom views for exact location of indicator lights).
Press the

CAM

button (CAM1–CAM4) you mapped to your

LUMiO 12x

in Setting up your remote control to sync your remote with your

LUMiO 12x

.
Specify camera settings (pan, tilt, zoom, focus, etc).
Press and hold the "1" button (about 4 seconds) until the power indicator light flashes purple; the

LUMiO 12x

settings are now mapped to "1".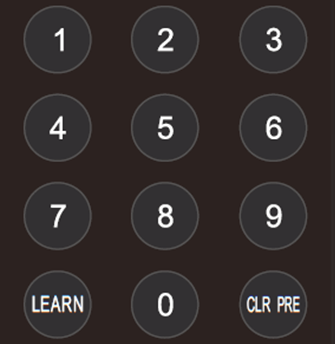 To apply a preset, simply press the number key (in this case, "1"); all of the settings you saved to the corresponding preset are immediately applied to your LUMiO 12x.