Directly share channel stream URLs with viewers
People on the same local network as Pearl-2 can easily view a channel's live broadcast stream. All you need to do is provide them the channel's stream URL and log in credentials if you've set one for viewers, see Set or change user passwords.
You can provide people separate URLs for streams coming from each channel, or one URL that includes all the streams for the channel. Choose the right type of URL for the type of device the person will use to watch the stream. For more information on compatibility between codec and file formats, see Viewing a channel's live broadcast stream.
To share the channel's stream URL directly with viewers:
Login to the Admin panel as

admin

, see Connect to Admin panel.
From the Channels menu, select the channel and click

Status

. The Status page opens.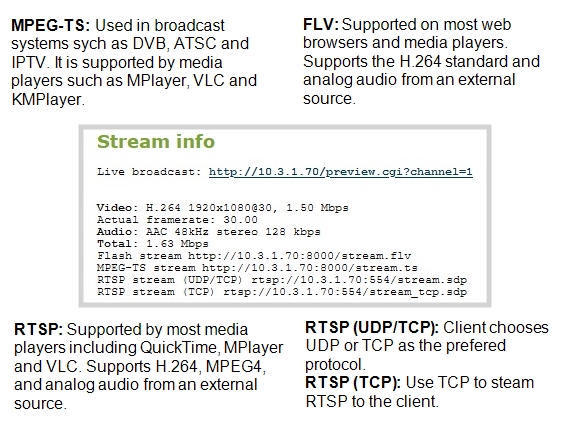 Copy the URL and provide that to viewers. 
Viewers can now watch the stream using a digital media player or browser, see View the live broadcast URL using a web browser and View the streaming URL using a media player.
HTTP only is used for MPEG-TS and FLV streaming. HTTPS is not supported.