Viewing a channel's live broadcast stream
When you set up a channel, the system automatically generates and displays a list of available live broadcast streams. You can share the channel's stream URLs with people on the same local network as Pearl-2 so they can watch a live broadcast of the channel. All you need to do is provide them the channel's stream URL and log in credentials if you've set one for viewers, see Change user passwords.
To stream video outside your LAN using the channel's live broadcast streams, you must configure port forwarding on your router. Consult with your Network Administrator.
The live broadcast stream URLs for a channel are available from the Channel menu in the Admin panel when you select Status. The audio and video codecs configured for the channel affect which live broadcast formats are listed.

Just copy the live broadcast URL and share that with viewers so they can watch the channel stream using a web browser, see View the live broadcast URL using a web browser.
Or choose one of the other channel stream URLs if your viewers prefer to watch using a media player, see View the streaming URL using a media player.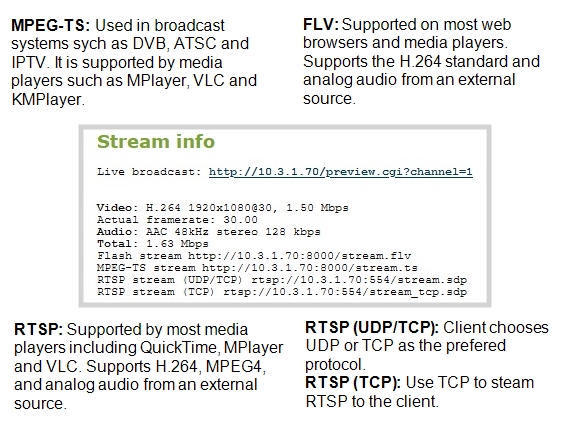 If the channel is configured with 48 kHz audio, some web browsers may not work. In this case, we recommend using one of the channel's other URL formats and viewing the channel steam using a media player instead.