Hi community,
Recently i am facing an issue with all my epiphan DVI2USB3.0 devices. I own 4 pieces for professional use.
How problem came to my attention?
During my preparation for an event with online video streaming i noticed that wirecast / obs / any other program / didnt recognize the sound from epiphan device. Only image / video, no sound. It seems that video + sound together cause a problem.
What i used and tested:
I used Wirecast by Telestream to make online video streaming.
I have already installed 3.31.3.9 64 bit , 3.32.0.0007 64 bit software and drivers and I tried many different cables and cameras, laptops unfortunately with no luck.
I think that problem is something related to software (drivers, codecs etc). I tried many setups without any good result.
The only i managed is finally to take sound on Epiphan Capture tool but with extremely bad quality and delay.
I mention that long time ago i didnt have any problem like this.
Any ideas what I could do to fix the problem? I think and there I am more oriented, that it is a problem / bug of Epiphan's drivers on Windows10.
Screenshot.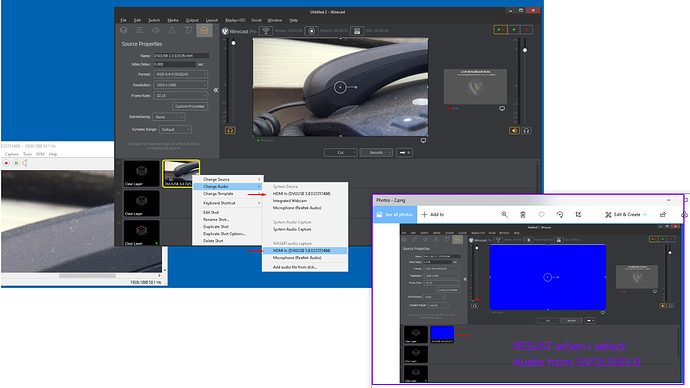 Thanks in advance and best wishes
Grou