How to capture and record video from VGA or DVI with DirectShow
Epiphan's line of video grabbers are compatible with most DirectShow applications used for enhancing, encoding and delivering live video content. This video software recognizes frame grabbers as high-resolution video cameras. In this example we are capturing and recording video feed from a VGA2USB Pro, predecessor to DVI2USB 3.0 using Microsoft Expression Encoder.
Step 1: Connections
Connect the video grabber to a video source's VGA, DVI, HDMI™ or SDI output port and to a USB port of a PC where the Microsoft Expression Encoder application has been installed. Make sure the frame grabber, video source and PC are started up.
Step 2: Configuration
Launch the Microsoft Expression Encoder application. From the Get Started menu, select Live Broadcasting Project. Click OK.

On the next screen select Add a Live Source.

Select a down arrow near the Video device field. Select the frame grabber connected to your PC from the drop-down list.

The application displays now the live broadcast from the video source in the upper left part of a screen.

Select the Encode tab in the Presets group. Specify the Output Format and select video codec.

Now select the Output tab and specify the output details. In our example the video feed is saved to a file. Enter the filename and directory.

Step 3: Recording
Click the Start button in the middle of the screen. You are now recording the VGA, DVI, HDMI or SDI signal stream through Microsoft Expression Encoder! Press Stop to finish recording. It will be saved in the file specified above.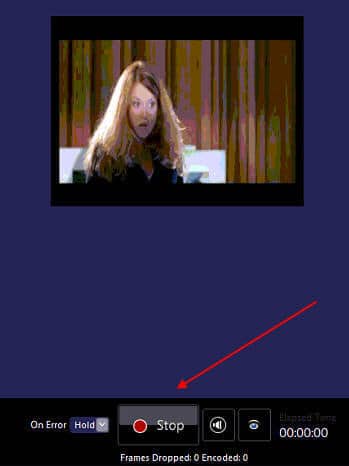 Troubleshooting: Insufficient video quality
If the resulting video quality from Microsoft Expression Encoder is not sufficient, adjust the Video settings in the right part of the screen.