New Web Presentation Solution Bridges the Gap Between Simplicity and Reliability
The VGA2WEB Lite is a compact and portable version of the popular VGA2WEB presentation solution. No knowledge of webcasting or prior experience is required in order to have it working within a matter of minutes. Furthermore, as it is a stand-alone device and users use their web browsers to view the presentation, no software needs to be installed on either the presenter's or the viewer's computers.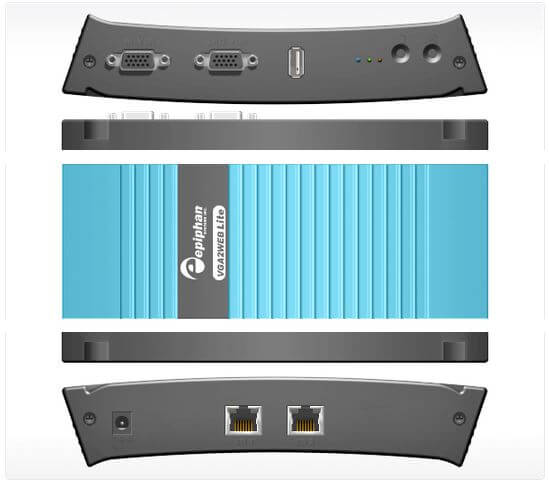 The VGA2WEB Lite works with all operating systems and computerized equipment with a VGA output and supports resolutions up to 1600 x 1200. It is configurable via a simple to use web interface and adheres to the tightest space restrictions. In order to find out more about or to order the VGA2WEB Lite, please follow this link.
Epiphan Video produces world-class, award-winning audio visual solutions to capture, scale, mix, encode, stream, record and play high resolution video including 4K UHD. Our customers include companies that specialize in live event production, education, healthcare, worship, manufacturing, usability, collaboration, security and transportation.
Epiphan's field-proven product line includes live video production and video streaming systems, external USB-based video grabbers for capturing video and graphics from DVI, HDMI™, SDI and VGA sources and internal video capture cards. Our products are designed in North America and backed by rock-solid technical support.
Epiphan Video is a trade name of Epiphan Systems Inc., a privately owned company incorporated in 2003. Epiphan is based in Palo Alto, California, USA and Ottawa, Ontario, Canada with regional offices and a network of authorized channel partners and OEMs throughout the world. For more information, please visit www.epiphan.com.
[/vc_column][/vc_row]