Epiphan Systems unveils VGA2Ethernet frame grabber
As the leader in high resolution VGA and DVI frame grabbers, Epiphan Systems always strives to improve upon and create faster, more affordable, and more versatile capture solutions. A first in the industry, the VGA2Ethernet uses a Gigabit Ethernet interface instead of the USB interface used in  the VGA2USB series of frame grabbers in order to connect itself with the target computer. This allows the VGA2Ethernet to reach capture rates well in excess of 100 frames per second, which is much faster than conventional PCI or USB based frame grabbers.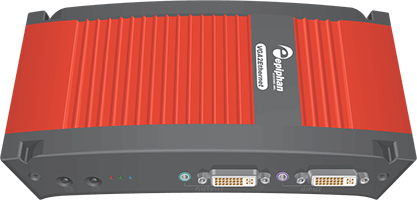 As well, due to the use of the Ethernet interface, the VGA2Ethernet may be placed at a distance from the target computer. As long as the target computer and VGA2Ethernet are connected to the same local area network (LAN), they will be able to communicate with each-other. As with all other Epiphan frame grabbers, the VGA to Ethernet is rugged, portable, and reliable. It uses the same easy-to-use software as the VGA2USB and DVI2USB frame grabbers and has the ability to work with any 3rd party video capture software via supplied WDM drivers. An SDK is also available for developers.
Epiphan Video produces world-class, award-winning audio visual solutions to capture, scale, mix, encode, stream, record and play high resolution video including 4K UHD. Our customers include companies that specialize in live event production, education, healthcare, worship, manufacturing, usability, collaboration, security and transportation.
Epiphan's field-proven product line includes live video production and video streaming systems, external USB-based video grabbers for capturing video and graphics from DVI, HDMI™, SDI and VGA sources and internal video capture cards. Our products are designed in North America and backed by rock-solid technical support.
Epiphan Video is a trade name of Epiphan Systems Inc., a privately owned company incorporated in 2003. Epiphan is based in Palo Alto, California, USA and Ottawa, Ontario, Canada with regional offices and a network of authorized channel partners and OEMs throughout the world. For more information, please visit www.epiphan.com.
[/vc_column][/vc_row]