Epiphan Introduces DVI2PCIe – A New Internal Capture Card DVI/VGA/HDMI Frame Grabber
December 14, 2011, Ottawa, Canada — Epiphan Systems Inc. announced the release of its DVI2PCIe frame grabber, a new internal capture card with a single-link DVI/VGA input. DVI2PCIe captures video from any single link DVI, unencrypted HDMI™ video*, VGA, DisplayPort, Mini DisplayPort, Thunderbolt video** , or BNC/component video source and is ideal for capturing video from any monitor, projector, embedded systems , medical and scientific equipment displays in 100% lossless quality. DVI2PCIe allows the capture of full HD video at a rate of 30 frames per second for 1080p video and video sources at any resolution up to 1920×1200 are supported. DVI2PCIe fits into a x4, x8 or x16 PCIe 1.x slot and incorporates the same capture technologies as the acclaimed VGA2USB Pro and VGA2Ethernet external frame grabbers. Furthermore, a 128MB on-board frame buffer means not a single frame is skipped.

DVI2PCIe Key Features
Capture from DVI, VGA, HDMI sources
Capture from RGB/BNC, component, DisplayPort, Mini DisplayPort, Thunderbolt video sources using adapters, purchased separately**
PCIe x4 form factor. Compatible with PCI Express x4, x8, and x16 slots
Full HD 1080p capture at 30 fps
Capture rates of 30 to 80 frames per second based on resolution selected
Epiphan Capture Tool software included for capturing and recording video
Easy to install and configure, software automatically optimizes settings
Supports Windows, Mac OS, and Linux
DirectShow (Windows), QuickTime (Mac OS), and Video4Linux (Linux) drivers available
Supports 3rd party applications that accept an external video source, such as Windows Media Encoder, Adobe Premiere, Podcast Producer, and others
Free API and SDK available for integrating into custom applications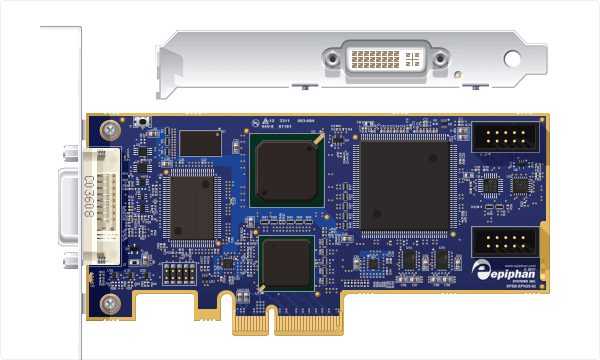 DVI2PCIe is ideal for:
Capturing any monitor image, including medical images, educational materials, presentations, podcasts, scientific equipment, embedded devices and other equipment
Recording full motion HD video in 100% lossless quality
Integrating into capture systems, streaming servers, embedded systems
Pricing and Availability
DVI2PCIe is priced at $US 999.95 and will be available through Epiphan Systems and its authorized resellers.
More Information
For more information, please visit the DVI2PCIe product page.
Epiphan Video produces world-class, award-winning audio visual solutions to capture, scale, mix, encode, stream, record and play high resolution video including 4K UHD. Our customers include companies that specialize in live event production, education, healthcare, worship, manufacturing, usability, collaboration, security and transportation.
Epiphan's field-proven product line includes live video production and video streaming systems, external USB-based video grabbers for capturing video and graphics from DVI, HDMI™, SDI and VGA sources and internal video capture cards. Our products are designed in North America and backed by rock-solid technical support.
Epiphan Video is a trade name of Epiphan Systems Inc., a privately owned company incorporated in 2003. Epiphan is based in Palo Alto, California, USA and Ottawa, Ontario, Canada with regional offices and a network of authorized channel partners and OEMs throughout the world. For more information, please visit www.epiphan.com.
[/vc_column][/vc_row]