Solutions for worship live streaming
I had the pleasure of being part of the Epiphan Video staff at WFX 2016 in Louisville, Kentucky on September 21 and 22. This annual show moves around to different locations each year, and brings with it physical and technology-based solutions for churches and worship. The show this year included everything from seating, stages and lighting to music and, of course, live streaming.
At the Epiphan Video booth, we showcased our new Pearl-2 system and AV.io 4K.

Pearl-2 is an ideal all-in-one solution for church live streaming. All you need to do is plug in your video and audio sources, configure your layouts and use either the touch screen or a tablet/computer and our Epiphan Live switcher to control live switching and streaming.The main attraction at the booth was definitely Pearl-2. Visitors were amazed that this portable little device could handle all their live video production and at the same time stream out YouTube, Facebook and anywhere else they wanted. We were showcasing Pearl-2 in a number of different configurations including the following:
picture in picture layouts with a custom background and logo
lower thirds layouts with the lower thirds coming in from an iPad
full screen camera layouts with different overlay images
static lower thirds layout (uploaded to Pearl-2)
One of the best parts of the days was seeing the reactions of our booth visitors when I showed them the drag and drop layout editor: they were so impressed with how easy it was to use! And of course they also loved live switching between layouts filled with exactly what they want.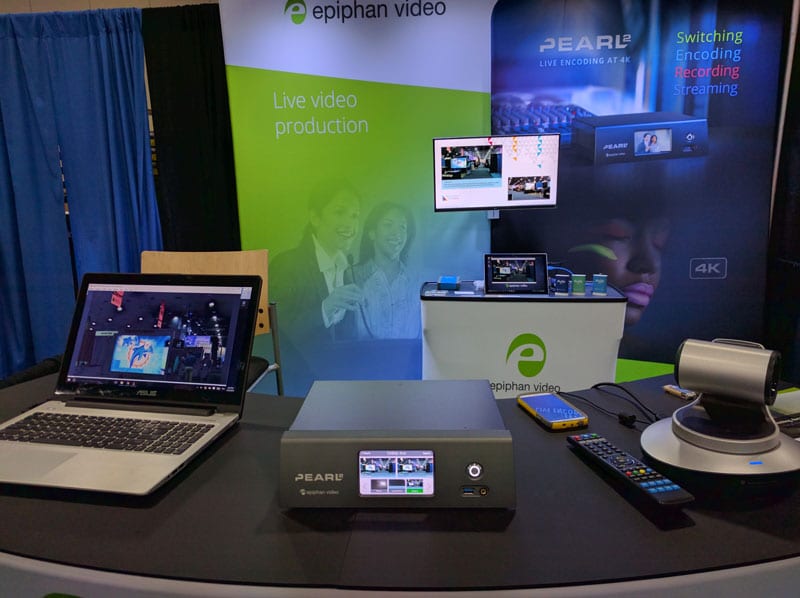 AV.io 4K and our line of AV.io video grabbers let you bring in HD and 4K cameras at full resolution and clarity for use in your streaming software such as Telestream Wirecast or OBS. They were a hit with some smaller churches who wanted high quality live streaming at an inexpensive price point. Although this solution doesn't provide the ability to stream to multiple places at once, it's a good starting point when there are many other expenses to consider at the same time (for example, cameras, which can be quite costly!).
Also at the show
The nicest part about being at shows like this is meeting our customers and also putting faces to names for some of the partners and companies we work with.
One of my booth visitors currently uses DVI2USB 3.0 for lecture capture at the university where he works his full-time job. Like many people in the worship community, he also volunteers for AV and video with his church; and he was excited to show our video grabbers to his fellow church volunteer. They both left with a great appreciation for our new AV.io 4K and its simple, just-works style. Another group that stopped by were existing Pearl users who were really excited to see Pearl-2 in person. This is only the second show it's been seen at and they were very happy to see the new hardware in action, capturing 4K video live from the show floor.
On Thursday I took a stroll through the show floor and met up with the team from Wowza who were showing their latest solution (and giving out cute Wowza Ninja stickers). I also had a chance to talk with ChurchStreaming.tv and thank them for giving me a test account to use Pearl-2 with their CDN.
Overall, it was a lovely opportunity for me to meet with great folks who are beginning their journey in live event and service streaming. I thank everyone for stopping by our booth and hope that you had a great return home. We'll see you again soon!