Watch Epiphan Video's live streaming show Live @ Epiphan on Thursdays at 3 PM Eastern.
It's the start of an era! Our video streaming, video switcher, and video capture card products make live video streaming a breeze. And now we're plunging in to the vlogging phenomena that's storming the Internet!
Live @ Epiphan is a weekly show that streams live from our studio. It's the live streaming show that's all about live streaming! Each week we cover live video streaming topics that are geared to vloggers, gamers, and anyone wanting to know more about live event production in an engaging format. Topics like: How to live stream to YouTube, video capture cards, 4K streaming, and more.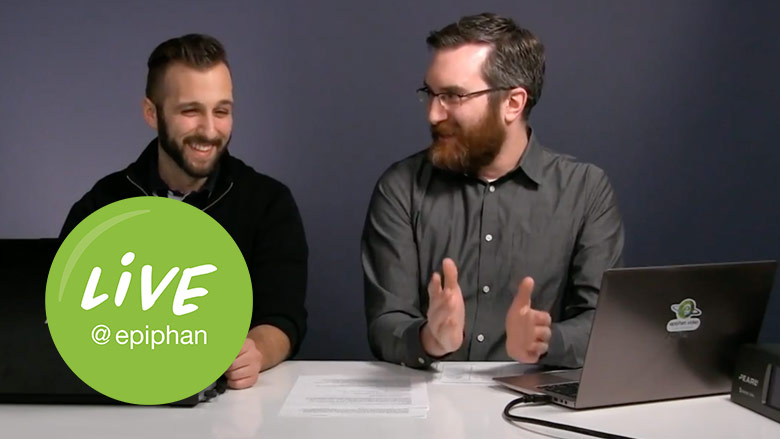 Our hosts share their knowledge about video capture technology and give tips to help you improve your live broadcasts. Hear about industry news, upcoming trade shows, and video streaming trends.
Each show runs for about 15 minutes and usually has one main focus, like the cameras we use here at Epiphan. Plus we include time to showcase live video streaming examples and talk about what works, what hurts, and what's interesting. Current episodes include:
Audiences are introduced to our basic studio setup here at Epiphan and given a quick, behind-the-scenes look at audio dampening panels, mics, lighting, and our own Pearl that we use to live stream and do video switching. We also looked at some interesting examples of how other people use live streaming.
In this episode, we talk about the different cameras we use, from small GoPro cameras that are great for trade shows to the Canon C100 for high-end marketing shoots. We even look at the Lumio 12x PTZ camera that we use in our own conference rooms.
Different approaches for audio dampening is the main subject as we talk about the kit we currently use and step through a simple process of how to set those up in a small studio space.
Follow us as we change things up in our studio and see how having the right gear can improve your video streaming experience. Learn basic techniques for things like studio lighting, video switching, and see some of Epiphan Video's own live streaming products in action along the way.
So whether you're new to vlogging and want to learn basic live streaming techniques, or a gamer looking to improve your video capture device performance, there's sure to be a topic that'll interest you.
Each week there's opportunity to post questions to our hosts during the show. Learn something new about the main topic in an engaging way. And at any time, you can email us at live@epiphan.com with questions or topic suggestions for future episodes.
Come along for the journey and join us every Thursday at 3PM Eastern. We think you'll be glad you did. Or you can always watch the VOD of past episodes on YouTube or Facebook. We look forward to streaming together with you!